20 Winter Moving and Storage Tips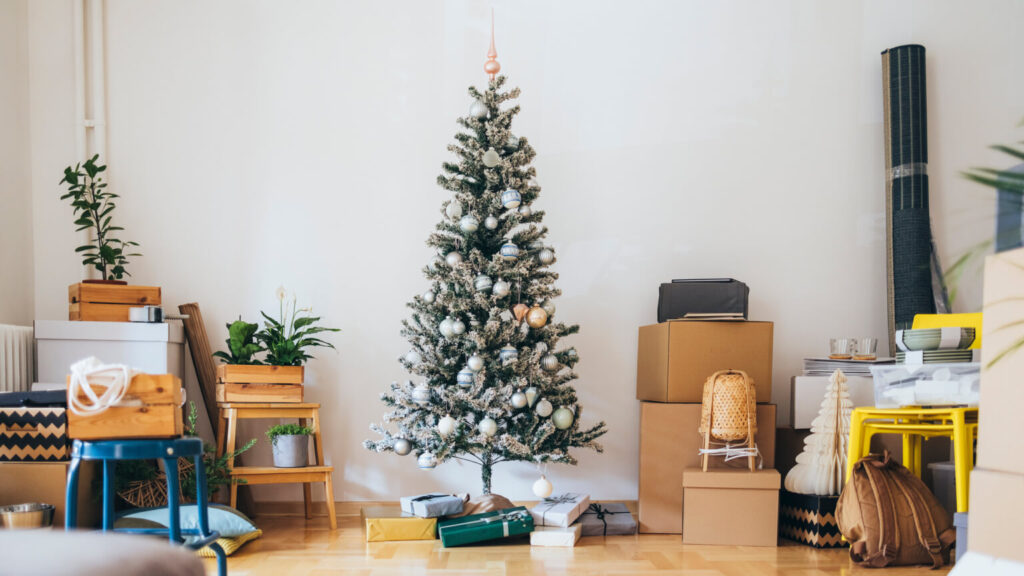 Moving in winter is challenging, and you could encounter cold weather, snow, and possible travel delays. While it might not sound glamorous or comfortable, there are things you can do to make winter moving and storage more enjoyable. We've compiled a list of 20 winter moving and storage tips to make your winter move easier.
Jump to:
10 winter moving tips
1. Be flexible when preparing to travel
Winter weather is unpredictable, so give yourself an extra day or two of wiggle room when planning. Know where rest stops and nearby hotels or motels are. This way, if there is a bad storm, you can stop and wait for the roads to clear.
2. Make sure your vehicles are winter-ready
Do inspections on your vehicles before leaving. Doing so ensures your vehicle's tires, engine, battery, heating system, suspension, and more are ready for the rigors of winter driving. If you don't own a vehicle that is suitable for winter weather, consider renting one. And if you've recently moved to a cold-weather city, make sure to update your auto insurance. You may qualify for a better rate.
3. Pack an emergency kit

An emergency kit is a moving must-have, especially if you're moving in winter. Your emergency kit should include items such as:
A first-aid kit
Non-perishable snacks
Bottled water
Jumper cables
A shovel
Ice scraper
Plenty of blankets
To be even more prepared, check out our list of even more items to keep handy during a winter move down below.
4. Keep an eye on the weather forecast
Winter moving involves keeping a close eye on what you encounter as you travel. By keeping a close watch on the weather you encounter as you travel to your new home, you can plan the best time to travel.
5. Know your roadside help
You never know what's going to happen with winter weather, and the last thing you'll want to be is stranded on the side of the road with all your possessions. If you don't already have roadside service or assistance on your auto insurance plan, consider temporarily adding it to your plan. For additional help, add the help numbers provided by highway troopers for all the states you plan to drive in. That way, if an emergency strikes, you have another lifeline to help.
6. Get your internet and utilities set up early

Heat and internet are two things you'll desperately be wanting after a long day of winter moving. Consider getting your internet and utilities set up two weeks before moving day. You'll thank yourself later.
7. Practice driving a rental truck
Anytime you're driving a new vehicle in the winter, it's ideal to see how it handles. Once you rent your truck, go to an empty parking lot and test the braking and steering. Doing this allows you to gain a better feel for how it handles when you do winter moving.
8. Save on movers
Winter is considered the moving off-season, which means you can save a decent amount of money hiring movers for your winter move. Shop around for quotes to see what services and rates movers in your area charge.
9. Locate moving discounts
Many moving companies offer discounts. Whether you're a student, first-responder, senior, or member of the military, be sure to explore all the incentives a moving provider may offer.
10. Shovel and salt the entry points.
Make sure to salt and keep all walkways leading to entry points clear of snow and ice. It allows you a faster and safer move. And if you have movers, they'll appreciate the gesture.
10 winter storage tips
1. Use climate-controlled storage

One of the best winter tips when moving is to use climate-controlled storage. Doing this shields your valuables from the colder weather, and some moving companies offer this as part of their moving packages.
2. Keep some temperature-sensitive items in the warm car
Winter moving means some of your belongings could experience colder temperatures during transport. If you can, keep these items with you in a warmer vehicle during the move.
Smaller electronics
Battery-powered items
Discs of any kind
Antiques
Music instruments
Medications and medical supplies
Important papers and files
3. Organize and label your items
Any move you make requires you to keep things organized to ensure the process goes smoothly. To accomplish this, label each box with the room it's going to and the items in it. Doing so makes it easier for the movers, as they can be extra careful with those boxes labeled fragile. Plus, the more organized everything is, the faster you can get out of the cold and into the warm house.
4. Protect fragile items
Packing fragile items in the same box? Wrap your fragile items in bubble wrap, as it can keep them from smashing into each other while in transport. It also adds another protective barrier if water seeps through the moving box from snow or ice.
5. Wrap items
Wrapping items in wool or cotton blankets can help to keep them from becoming damaged due to colder temperatures. Weather-proof tarps will protect your outdoor furniture during transport.
6. Drain liquid from equipment

Liquid can freeze in colder weather. You'll need to remove the fluid from items or store them in dryer, warmer areas. You'll also want to drain fuel safely for gasoline-powered equipment like lawnmowers, snowblowers, and more.
7. Position furniture properly
Furniture is one of the biggest items at risk during a winter move. Load your furniture into the moving truck first. This prevents them from being near the loading door, where water can seep through, causing damage. You should also consider wrapping your furniture in water-proof packing materials.
8. Wax wooden furniture
Wax your wooden furniture before storing them. It can create another layer of moisture resistance, which, together with being double-wrapped, can protect it during a winter move.
9. Clean items before moving
For furniture like mattresses and sofas, you need to clean them before having them loaded into the truck. Doing this reduces the risk of your furniture incurring mold or mildew due to the cooler weather.
10. Set barriers
One of the biggest concerns when moving in winter is keeping your items dry. You can set a barrier by laying a plastic sheet down in each truck or trailer you use to move your items. Speaking of plastic, you want to store as many of your items in plastic storage containers as you can since they can be more moisture-resistant than cardboard boxes.
Items to keep handy during a winter move
Winter moving means needing to be prepared for anything thrown your way. For some extra preparedness and peace of mind, consider packing away some of these items to keep handy.
A first-aid kit
Your moving emergency kit
Lots of blankets
Toolkit
Flashlights
Safety absorbent or cat litter
Portable air compressor
Non-perishable snacks
Jumper cables
A shovel
Ice scraper
The bottom line
It's no secret that moving in winter is tough. But you'll be able to save money on movers and be even more prepared if you decide to brave another winter move in the future. Just don't forget to keep up with your new home's winter maintenance.
Frequently asked questions
Q:
Can you move in the winter?
A:
Yes, you can move in winter. To do so, give yourself plenty of time when traveling, keep an eye on the weather, and even consider hiring pros to make the job easier. Also, use our winter moving and storage tips to keep your items safe.
Q:
Is it cheaper to move in the winter?
A:
Yes, moving is cheaper during winter because it is considered to be moving off-season. This means moving companies will generally be charging you less for your business.
Q:
What is the cheapest day to move?
A:
The weekdays (excluding Friday) are the cheapest because people tend to move more often on weekends when they're off work.
Q:
How do you move in the winter?
A:
You should be flexible when scheduling your move, as winter weather is subject to change. Additionally, consider keeping items stored in a climate-controlled facility and use plastic containers instead of cardboard boxes to reduce moisture damage.