How Much Does It Cost to Move?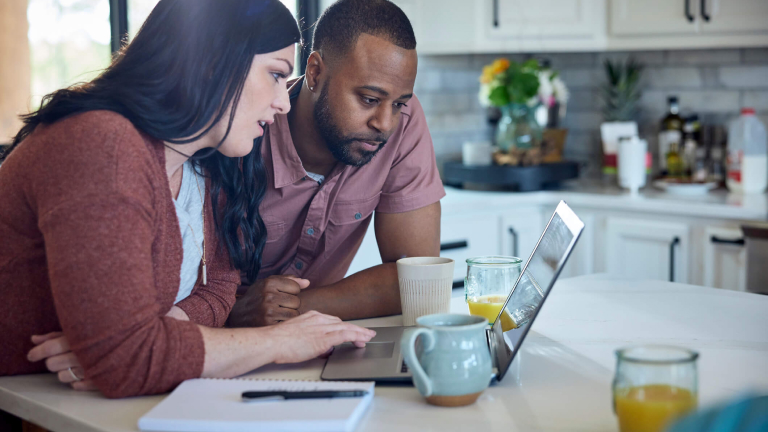 The average cost of a move is anywhere from $400 to over $7,000. If you're moving within the same city and live in a smaller house or apartment, you can handle the move yourself for as little as $300 (not including housing costs like security deposits). If you're switching coasts, on the other hand, be prepared to spend at least $3,000 and as much as $8,000 if you hire professional movers.
Major caveat: There's a lot of wiggle room in these numbers. Your exact budget for moving out will vary depending on where you're going, the amount of stuff you'll be taking with you, and whether you'll be hiring a mover or renting a truck yourself. Your needs will also factor into a moving budget to figure out if there are new things you need to buy or not.
Moving on your own
Doing everything yourself will save you a lot of money, but you'll still have to factor in unexpected expenses like renting a moving truck, gas to fill it up, and possibly hotels along the way. Here's how a few different long distance moves compare when you're doing the work yourself:
| Distance | U-Haul rental* | Moving supplies** | Gas*** | Total |
| --- | --- | --- | --- | --- |
| >25 miles | $58 | $210 | $7 | $275 |
| 100 miles | $146 | $210 | $33 | $389 |
| 500 miles | $570 | $210 | $166 | $946 |
| 1,000 miles | $1,037 | $210 | $331 | $1,578 |
| 3,000 miles | $2,715 | $210 | $994 | $3,919 |
*For 15' Truck (1 Bedroom Home to 2 Bedroom Apt.)
**1-2 Bedroom Kit from U-Haul
***At average price as of 01/19/22 ($3.314/gallon) and 10 MPG
If you keep everything as simple as possible and do all the heavy lifting yourself, you can keep costs to a little over $500. (Beer and pizza for your friends not included.)
Hiring professional movers
Here's where things get expensive. Your moving budget will have to get significantly larger if you're planning on using professional movers or shipping a car. That said, the price to hire moving companies varies a ton depending on the amount you're moving and whether they're packing things up for you. Here are some example costs for longer moves using professionals:
| Distance | Professional movers* | Car shipment | Total |
| --- | --- | --- | --- |
| <25 miles | $465 | N/A | $465 |
| 100 miles | $2,059 | N/A | $2,059 |
| 500 miles | $2,538 | $631 | $3,169 |
| 1,000 miles | $3,512 | $1,099 | $4,611 |
| 3,000 miles | $5,404 | $2,373 | $7,777 |
*Average of quotes through MYMOVE for 2-bedroom apartment
Moving containers
If you want to go a cheaper route than hiring professional movers, moving containers are another popular option. Here are some quotes from two popular moving container companies. In both case, they drop off the container and you pack it up yourself.
| Distance | U-Haul | U-Pack |
| --- | --- | --- |
| 200 miles | $1,031 | $1,412 |
| 500 miles | $2,205 | $2,420 |
| 1,000 miles | $4,962 | $2,619 |
| 3,000 miles | $5,838 | $6,413 |
*Average of quotes for 2-bedroom apartment
Additional moving costs to consider
Before you set your moving budget in stone, there are a few other costs you'll want to take into account, especially if you're moving across the country.
Food: If you're making the drive yourself, plan on factoring in at least $30 per day for every person in your caravan.
Hotels: Cross-country trips will almost always require a couple nights in a hotel. Expect to pay at least $100 per room on your drive.
Storage: Timing may not work out perfectly on your move, and you may need to store some of your belongings in the short- or long-term. Storage units cost anywhere from $100 to $300 per month, depending on the size.
Time off work: For some moves, you may need to take a whole week off of work. If these means lost wages for you, be sure to include that in your moving budget.
Childcare: Depending on the kind of move you're making, you may need to pay for childcare for a few days. This can cost as much as $600 per week in some cities.
Tips to save money on your move
With moving costs averaging in the thousands, most people will need to do some financial planning ahead of time to make sure they can afford it. Here's what you should consider when creating your moving budget.
Decide which type of move is best for you
The biggest decision you'll make when preparing for your move is whether to do it yourself or hire professionals. Both options have their pros and cons. You can expect the cost of your move to go up by several thousands of dollars if you hire the pros, but it will also eliminate a lot of the planning that makes moving so stressful.
If you do choose to rent a truck or trailer and move everything yourself, budget in some extra time for your move if possible. You'll likely need to sell or donate some belongings, and boxing up your entire home shouldn't be rushed.
Shop around for deals
Moving comes with a ton of expenses, from the packing itself to all the new items you need once you get to your new home. Taking some extra time to hunt for coupons will pay off in the long-run, especially when it comes to things like furniture and decor for your new place. You can also save some money by comparing a few of the internet providers available in your new area.
Negotiate with your movers
Typically, the quotes that professional movers give you are somewhat flexible. It's a good idea to get estimates from several vendors and compare the costs and terms of different options. You can often knock off some money on the initial price by forgoing some features or doing some of the work yourself.
Sell unwanted belongings
Moving is the perfect time to declutter your home. Instead of paying to move everything into your new place, you can earn some extra cash for your move by sellings items — either online or in person. If you're not having any luck selling things, donating them can also save you money by decreasing the size of your move.
The bottom line
Overall, moving is expensive and it takes a lot of work. Yet, when you approach moving with enough time to plan and budget, it makes the entire process easier. Before your move, consider the upfront and ongoing costs that will be part of your budget. Research these costs according to where you'll live and build a precise budget. Always save a little extra for surprise costs and emergencies. With careful planning, you can feel settled into your new home while staying comfortable and happy.
Moving budget FAQs
Q:
How much money should I have saved up before I move out?
A:
The average cost to move can be anywhere from $400 to more than $7,000. The cost will depend on your needs, where you're moving, and how much of your belongings you're bringing with you. Be sure to save for your upfront moving costs as well as living expenses for three months to cover emergencies.
Q:
What do I do if I can't afford to move out?
A:
If you can't afford to move out right now, practice patience and diligence. Evaluate your income and spending and develop a budget to help you save what you need. Create a timeline and stick with it. Depending on your income and spending, you can have enough saved within a matter of months.
Q:
How do I know if I'm ready to move out?
A:
While different for everyone, moving can usually be an emotional process. It's hard to accept change, even if it's a good change. You might feel unsure, but you'll know you're ready to move out when you feel mostly excited and comfortable with the decision.
Q:
What essential items do I need for my first apartment?
A:
Your first apartment will need many essential items and products, including:
Cleaning supplies
Kitchenware and utensils
Furniture
Decorations
Pantry staples like spices
For a more expansive list, check out our First Apartment Checklist.
Q:
Where do I find an affordable apartment or home for rent?
A:
To find an affordable apartment, you can use different websites like Zillow and Apartmentfinder to see new listings that align with your budget. You can also use Craigslist and Facebook Marketplace to see single room postings from people who are looking to sublet or find roommates.