Winter Home Maintenance Checklist: How to Prepare Your Home For Colder Weather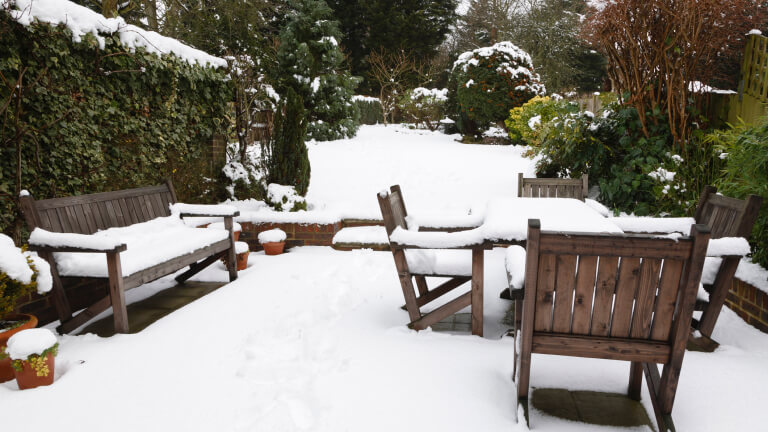 Winter is coming, which means it's time to start winterizing your home. Your winter home maintenance checklist will look a little different depending on whether you're braving temperatures of 10 below or just unpacking a few light sweaters. But even if you're not facing ice and snow, the changing seasons are a great reminder to stay on top of the to-dos for your home.
We've put together the ultimate winter home maintenance checklist to help you get your home ready for the temperature drop.
Winter home maintenance to-do's:
Check the heating system

The best way to make sure you stay warm all winter long is by checking up on your heating system. Whether you have a high-tech HVAC system or an old-school furnace, give it some care before winter begins.
Get your heating system serviced by a professional if you didn't during fall
Change out filters.
If you have an outside heating unit, clear dirt, leaves, and debris from around the heating unit.
Clean out all the vents inside your home.
Did you know?
The optimal energy-saving temperature to set your thermostat to in the winter is 68°F. You can set it even lower at night to save more money on your heating bill.
According to the U.S. Department of Energy, "You can save as much as 10% a year on heating and cooling by simply turning your thermostat back 7°-10°F for 8 hours a day from its normal setting."
Clean the chimney
If you have a fireplace that you use during the winter – whether for heat or just for the aesthetic – this is the time to have it cleaned. You should call a professional at least once a year to have your chimney cleaned. However, there are a few things you do on your own.
Clean out the fireplace of any old debris.
Shine a flashlight into the chimney. You should be able to see light at the top. If not, that's a sign your chimney needs to be cleaned.
Look for any cracks or gaps in the fireplace interior. If you can see steel body beneath your firebox lining, it'll need to be repaired.
Check your grate size. Your grate should fit just right.
Keep a fire extinguisher near or in the same room as your fireplace.
Did you know?
According to a research study by the National Fire Protection Association in 2021, "Fireplaces or chimneys were involved in approximately three in ten fires caused by heating equipment (29%)."
Un-cleaned chimneys were one of the most frequent causes of chimney fires.
"A frequent cause of chimney fires was the ignition of creosote, a highly combustible by-product of wood fires that can be deposited on the lining of chimney walls."
Winterize your cars

Your house isn't the only thing that needs prepping for winter weather. Take the necessary preventive measures now to avoid dead car batteries, frozen doors and windows, or trying to get your car unstuck from the snow later during the season.
Check your tire tread depth.
Install winter wiper blades.
If you live somewhere that gets deep snow, consider putting winter tires on your car.
Lubricate your car's window tracks, door locks, and weather stripping.
Keep a winter emergency kit in your car.
Have your car battery tested. If it's older than four years, think about replacing it.
MYMOVE pro tip
Stranded outside in the snow and ice is the last place you'll want to be if your car breaks down. Consider adding roadside assistance to your auto insurance plan.
Prep pipes
A frozen pipe is not fun to deal with. Insulate your pipes to protect yourself against a water shortage or, worse yet, a burst pipe (and major flood.) Not only will this help keep them from freezing, it makes your home's hot water system more efficient, saving you serious bucks throughout the year.
Wrap pipes in your crawl space, attic, and garage in pipe insulation.
If you live somewhere that doesn't get harsh freeze conditions, you can wrap your pipes in heating tape.
Disconnect any hoses from their spigots so they don't freeze in place.
MYMOVE pro tip
Don't forget to winterize your sprinkler system if you have one. Since the process for this can be a bit complicated, it's best to call a professional.
Check the roof

In many places, winter brings snow. And that heavy snow piles on your roof, sometimes for an extended period of time. You'll want to grab a ladder and check some things on your roof before the snow starts.
Clean off leaves and other debris leftover from fall.
Replace all damaged and broken shingles.
Check the roof for holes and weak spots, which can lead to a disaster once the snow starts piling up.
Clean out the gutters and downspouts of any leftover fall leaves.
Clean the top of the chimney (if you have one).
Did you know?
Water damage is one of the leading causes of roof damage. Getting your roof inspected every year can go a long way in maintaining your roof (and saving you money.) 
Service water heater
Now's the time of year when you'll really want to make sure your water heater is working properly. It doesn't hurt to call in a professional to give your water heater a quick inspection, especially if you notice any of the following.
Any water leaks (should be dealt with immediately)
No hot water
Water is too hot
Drop in water pressure
Dirty water (should be dealt with immediately)
Slower water heating
Breaker tripping when the water heater is active
Strange sounds
MYMOVE pro tip
It's recommended to get your water heater serviced at least once a year. This is mainly to get the tank flushed to remove built-up sediment, rust, or corrosion.  
Switch ceiling fans

If you have ceiling fans, change their direction to clockwise. This pushes the warmer air that gathers near your ceiling down into the room. This simple swap is key in rooms where you run your fans even in the winter. Plus, it may even save you money on your energy bill.
Most pull-chain fans come with a reverse switch that you'll push, and remote-controlled fans usually have a reverse button on the remote.
If you have a pull-chain fan:
Turn the fan off and wait for it to come to a full stop.
Check the body of the fan or inside the light fixture for the reverse switch
Flip the reverse switch.
Attach the light glass back to the fan if you removed it and turn the fan back on.
If you have a remote-controlled fan:
Turn the fan off and wait for it to come to a full stop.
Locate the reverse or fan/blade direction button on your fan's remote.
Push the button and turn the fan back on.
MYMOVE pro tip
Don't forget to switch your ceiling fans back to counterclockwise once it gets warmer outside. Fans spinning counterclockwise create a downdraft – pushing cool air down and making summertime much more comfortable.
Seal windows
The hotter weather of the summer months can cause the seals around your windows to crack. You might not notice, but leaks and cracks can leave you facing a chilly home and higher energy bill during winter. Any small gaps can also leave room for winter insects and critters to enter. Here's how you can easily seal any window gaps or cracks.
Inspect your windows for any cracks or drafts
Clean and wipe down the unsealed area
Allow it to completely dry
Use a caulking gun to apply a layer of caulk to the unsealed area
Allow the area to dry overnight
You can also apply weather stripping to insulate your doors and windows.
MYMOVE pro tip
If you live somewhere that gets extremely cold, consider installing storm doors or windows for extra protection from the cold.
Change batteries

During the cooler months, you'll likely be running your heater, furnace, or fireplace. While this does keep your home warmer (and cozier), it also poses a danger. Any carbon monoxide leak or small fire can quickly become fatal.
Before winter sets in, change out the batteries in your carbon monoxide and smoke detectors. It's easy to get into the habit of making sure these key devices have fresh batteries by doing it every time you change the clocks for daylight saving time.
Shut off power to the smoke and carbon monoxide detectors (if they're hardwired into your home) to avoid an electrical shock.
Remove the cover on the detectors. Most covers will either twist open or will need to be unscrewed with a screwdriver.
Replace the batteries in the detectors.
Find the test button on the detectors and test them to make sure they work.
Secure the detector covers back into place, reinstall them to their original position, and turn the power back on (if you shut it off).
Did you know?
According to the U.S. Fire Administration, "The risk of dying in a home fire is cut in half in homes with working smoke alarms."
Protect patio furniture

You'll likely be using your patio less during the chilly season ahead, so why leave all of your patio furniture out and exposed to the elements? There are a few ways you can keep your patio furniture safe from the winter elements.
Move patio furniture into your home.
Store patio furniture in your garage or shed.
Cover patio furniture with a weather-resistant tarp.
Wrap patio furniture in strong plastic or shrink wrap.
Buy patio furniture covers.
MYMOVE pro tip
If you don't feel comfortable leaving your patio furniture covered up outside all winter long, consider renting a seasonal storage unit.
Create a winter emergency kit

A winter storm emergency kit is an absolute must-have if you live somewhere that gets harsh winter weather. Keep you and your family safe and prepared by putting together an emergency weather kit ahead of time.
Bottled water (at least three days supplies)
Non-perishable food (at least three days supplies)
Flashlights
Candles
Battery-powered radio
Batteries
First aid supplies
Lots of thick blankets
Extra jackets and sweaters
Sand, rock salt, or cat litter to help melt ice
MYMOVE pro tip
It's a good idea to keep a winter emergency kit in each of your vehicles as well.
Locate your winter tools

It's time to break out your winter tools and put your fall ones into storage. Gathering everything on your winter tools list and putting them in an easy-to-access place will save you a ton of time digging them out of your shed or garage when you really need them.
Snow shovels
Snowblower
Sidewalk scraper
Ice scraper
Roof rake
Ice melt and spreaders
MYMOVE pro tip
Before putting your fall and warm-weather outdoor equipment into storage, make sure to empty all the gas out of any gas-powered equipment so the gas doesn't go bad.
The bottom line
No matter your climate, getting your home ready for the colder months can help you shrink your energy bill, be more comfortable indoors, and rest easy knowing your space is in top shape. Start tackling your winter checklist today so you can relax when the temperatures drop.
Frequently asked questions
What should you do to your house before winter?
Follow our provided winter home tips to make sure you're properly preparing your house for winter. Prep the exterior by cleaning and putting things away and check all your winter home items (hot water heater, snow blower, etc.) to make sure they work.
How do I prepare my windows for winter?
There are a couple of options here. You can either seal your windows for winter with weather stripping, or you can opt to install storm windows, which will provide a little more protection from the cold.
Should you paint in the winter?
Painting in the winter probably isn't the best idea. It's cold, the days are short, and the weather is most likely damp. If you want to paint inside your house, though, winter is a fine time to do so.