Can You Take Your Home Security System With You When You Move?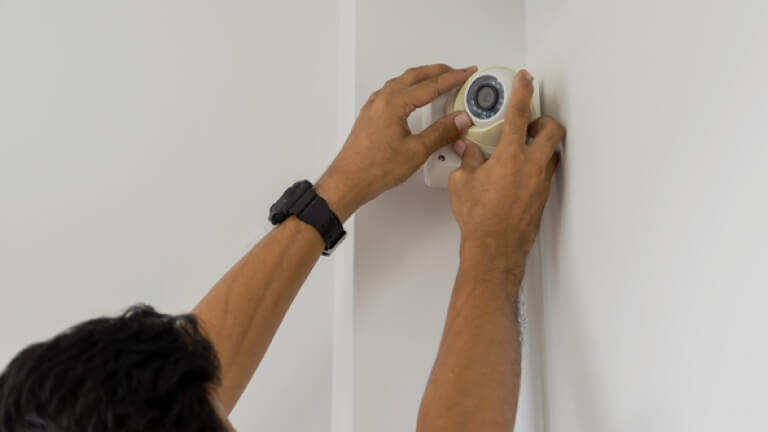 Moving to a new home is a new beginning in many ways, but it doesn't mean you have to start from scratch when it comes to home security. Most companies offer monitoring service nationwide, so transferring your service is as simple as changing the address on your account.
To find out the details, we looked into the policies of all the top home security systems available in the U.S., and dug into details like contracts, transfer fees, and moving your equipment.
Jump to each provider's moving policy:
| System | Bring equipment | Moving fees | Notice required |
| --- | --- | --- | --- |
| ADT | ✘ | Installation fees | 30 days |
| Vivint | ✔ | $149 each for professional removal or installation | Two weeks |
| Brinks | ✔ | None | Update address after move |
| Abode | ✔ | None | Update address after move |
| Frontpoint | ✔ | None | Any time before move |
| SimpliSafe | ✔ | None | Any time before move |
| Ring | ✔ | None | Update address after move |
Moving with ADT
Can't bring equipment with you
Call 30 days before your move
$9/mo. mover discount for first year
$200 off installation
Unfortunately, ADT is one of the few home security companies that doesn't allow you to bring your equipment with you when you move. In fact, you'll have to cancel your existing contract since it's tied to your address. That said, ADT does offer plenty of discounts and incentives to keep your security monitoring with them.
It's called the Reactivation Movers Offer. If you've had active monitoring service with ADT for at least 24 months, you'll qualify for up to $9/mo. off any ADT monitoring service level, plus $200 off the installation cost. You'll also have to commit to a three-year contract to take advantage of these savings.
Moving with Vivint
Move yourself or have Vivint move your equipment
$149 each for removal installation
Notify Vivint two weeks before your move
You have three options when it comes to moving with Vivint: get an entirely new system, move your system and have it installed in your new home by Vivint, or have Vivint professionally remove and install your system. Professional removal costs $149 and professional installation is another $149.
If you decide to move everything yourself, you'll bring any plug-in items you have, plus your control panel. (You can find instructions for removing your Smart Hub here.) They'll also supply you with four door/window sensors and your choice of a smoke detector, motion sensor, or glass break sensor. Vivint only recommends a DIY move if you have fewer than ten products in your system.
Moving with Brinks
Move system yourself
No moving fees
Moving with Brinks couldn't be simpler. Because the company lets you install your equipment yourself, all you have to do when you move is pack up your cameras when you move and reinstall them in your new home. You don't need to worry about getting out of your existing contract — Brinks lets you stay on the same plan at your new address.
If you would like to customize your setup for your new house, you can connect with a Brinks expert to find out what works best for your home.
Moving with Abode
Move system yourself
No moving fees or contracts
Moving your Abode home security system is incredibly easy — just pack up your cameras, set them up in your new home, and contact Abode to update your address so emergency responders can go to the right place if an alarm goes off. You can do this by logging into your Abode account online or by calling Abode at 650.383.1901.
Moving with Frontpoint
Move equipment yourself
Frontpoint sends new adhesives for installation
No moving fees or contracts
Frontpoint has one of the friendliest policies for movers of any home security company. Because its equipment is 100% wireless, packing it all up for a move is a breeze. Frontpoint even sends you a mover's kit with fresh adhesives and window decals to get you set up at your new address. To get the process started, you'll need to log into your account and head to their Move Portal to enter your new address and choose a date to transfer service.
Moving with SimpliSafe
Move equipment yourself
SimpliSafe sends packaging and new adhesives
No moving fees or contracts
Because SimpliSafe uses wireless equipment for their system, moving everything to your new address is fairly hassle-free. When you have your moving date locked in, give SimpliSafe a call at 888.692.0229 and they'll send you packaging to keep your system organized during your move, along with adhesives to get everything set up in your new home. SimpliSafe walks you through taking your system with you in more detail here.
Moving with Ring
As a DIY home security system, Ring is pretty easy to take with you during your move. They recommend turning off the power or circuit breaker before uninstalling your Ring devices and placing your hardware in a plastic bag or its original box. Once you arrive at your new house, simply open the Ring app and update your address in the settings. You'll then go through each device and set them up individually.